---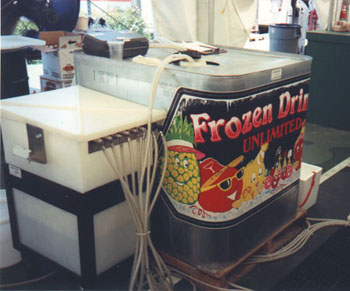 Frozen Drinks Unlimited is the area leader in Frozen Drink machine rentals and leasing. Frozen Drink Unlimited machines feature COOL TECHNOLOGIES patented unique design. Frozen Drinks Unlimited has the ability to locate product storage in any location and to deliver a large volume continuous supply. The unique portability of the equipment, the fine grained, creamy product, high capacity in a small space and the remote refrigeration capability of the equipment are outstanding attributes.

Our engineers have innovated systems using both pumps and air pressure to provide the energy to move product efficiently from the best storage location to the best dispensing location. This allows the system design to fit the needs of the user rather than forcing the user to compromise his facility design. This also meansthat the productcan be frozen under better conditions and that it can be held under cleaner environmental conditions than other systems allow.
Event planners who rent a frozen drink system from Frozen Drinks Unlimited receive machines boasting the maximum capability for small and large events. Frozen Drinks Unlimited is experienced in events of all types and sizes and features a full line of premium all-natural mixes to help make any event a spectacular success.
Frozen Drinks Unlimited has furnished machines for the Anatole Hotel, ARA, Chili's Bar & Grill, Colonial Country Club, Frijoles, J. Pepe, The Margarita Society, Mother Mesquite's, On The Border, Ricardo's of Las Vegas, Tia's, Uncle Julio's, Pappasitos, Blue Mesa Grill, and Sonny Bryan's BBQ.
Frozen Drinks Unlimited has been in business since 1988, with main offices located in Dallas, Texas. (214) 340-1500.